Bermuda Rhodes Scholarship
(back)
Press Announcement
(Click on Picture to Enlarge)
(See Reprint of Article in the McGill Reporter)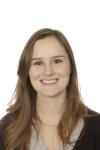 The Bermuda Rhodes Scholarship Selection Committee is pleased to announce that Miss Michèle Smith has been selected as Bermuda's Rhodes Scholar 2010.

Michèle attended the Bermuda High School for Girls in Bermuda and graduated in 2006. While at the Bermuda High School, Michèle was an honours student throughout the later years and passed GCSEs in several subjects with top grades. She also completed the International Baccalaureate with a near perfect score.

Michèle is currently studying for an Honours Degree in History with minor concentrations in Political Science and Economics at McGill University in Montréal, Canada. Michèle has been on the University Dean's Honours List throughout her time at McGill and was awarded the Michael Silverthorne Book Prize by McGill's History Department for her work. She has received and maintained the Edward Beatty Entrance Scholarship as well as the Dudley & Deborah Butterfield Scholarship when she began at McGill in 2006. During her studies at McGill she also became a member of the Golden Key International Honour Society, and received the Sara and Maurice Greenblatt Scholarship for Academic Achievement.

Michèle served as a House Leader and Form Prefect at the Bermuda High School. Her various activities, including piano, karate and volunteering at the Bermuda Aquarium Museum and Zoo throughout high school allowed Michèle to achieve her Duke of Edinburgh Gold Award in 2005.

Michèle is a keen debater and has participated in several local competitions and represented Bermuda internationally at the 2005 World's Debating in Calgary, Canada. She has continued her enthusiasm for debate by coordinating a committee for the past two years at the Secondary School's United Nations Symposium, which provides the opportunity to North American high school students to participate in a Model United Nations Conference. She has also assisted in the organization of McGill's Model United Nations Conference for the past two years and co-founded the Non-Governmental Organizations Committee.

Michèle is very involved in the Classics Students' Association at McGill; she has served as Secretary and now as Vice President External, where she has aided in organizing activities and events for the Classics community on campus. She has also been an editor for Hirundo, McGill's Classical Studies Journal, for the past three years.

Michèle has been accepted at Pembroke College and intends to read for a BA in Jurisprudence.
John C.R. Collis
Clarendon House, Church Street
Hamilton HM11, Bermuda
Tel: 441 299 4910 & Fax: 441 292 9337
Email: johncollis@jexec.bm
www.rhodes.bm